Physiotherapy (English is Physical therapy) and Yoga therapy are two methods commonly used to improve the health and treatment of patients. However, they have many differences in approach and application. In this article, learn about the common types of physiotherapy and their benefits in treatment and rehabilitation, as well as the differences between physiotherapy and yoga therapy. .
What is physical therapy?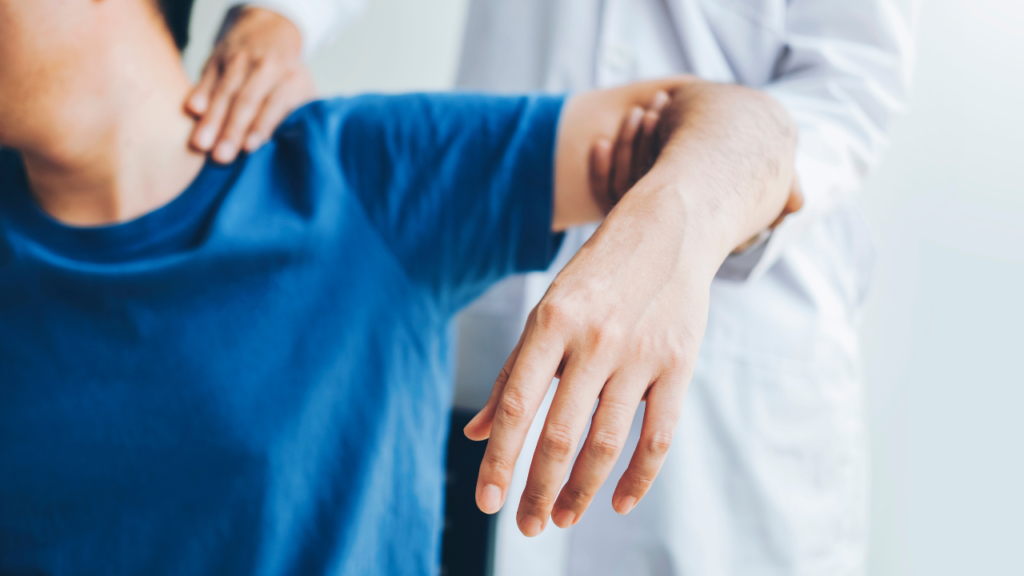 Physical therapy is a medical treatment used to restore functional movements, such as standing, walking, and moving different parts of the body.
It can be an effective treatment for medical or traumatic conditions that cause pain, or limit movement such as: backache, joint pain, knee painFor example, if you love to run and are starting to have knee pain, a physical therapist can evaluate your movement and develop a treatment plan to help you run pain-free.
Medical professionals known as physical therapists or Physical Therapists (PTs) perform this treatment. These professionals educate, provide personalized courses, and assign exercises to each patient to improve their mobility, strength, and function.
Benefits of physical therapy
Physical therapy is care that relieves pain and helps you function, move, and live better. You may need this method to:
Reduce neck and shoulder painback pain, knee pain...
Improved ability, range of movement
Prevention or recovery from sports injuries
Disability prevention or surgery
Recovering from a stroke, accident, injury or surgery
Manage chronic conditions such as diabetes, heart disease or arthritis
Recovery after giving birth
People of all ages benefit from this method, it can treat a variety of health problems.
Who is suitable to use for rehabilitation?
Osteoarthritis: like disc herniation, spondyloarthritis, scoliosis, osteoarthritis, arthritis, carpal tunnel syndrome, polyradiculitis, peripheral nerve palsy.
Neuromuscular damage: such as cerebral palsy, traumatic brain injury, stroke, meningitis, spinal cord injury.
Birth defects, genetic disorders.
Injury: like dislocation, knee ligament stretch, stretch muscles.
Rehabilitation after a stroke: This helps the injured part restore its original function.
Recovery after surgery: such as fusion surgery, knee ligament surgery, knee replacement, artificial hip or surgery related to spinal nerves, brain.
Respiratory diseases: such as bronchial asthma, pulmonary embolism, pneumonia.
Chronic diseases: such as diabetes, hypertension, stomach pain, chronic pancreatitis.
Where can I practice this method?
You can practice in a variety of locations, including:
Treatment room: This is a place specializing in providing therapeutic services with modern equipment, machines and experienced professionals.
Hospital or clinic: Many hospitals and clinics also offer services. You may be referred to a specialist for advice and appropriate exercises.
At home: If a patient is unable to make it to the gym or clinic, doctors can instruct and provide the patient with rehab exercises at home.
However, if you have any symptoms or health problems, you should consult your doctor or physical therapist before starting any exercise program.
Are Physical Therapy and Yoga Therapy the same?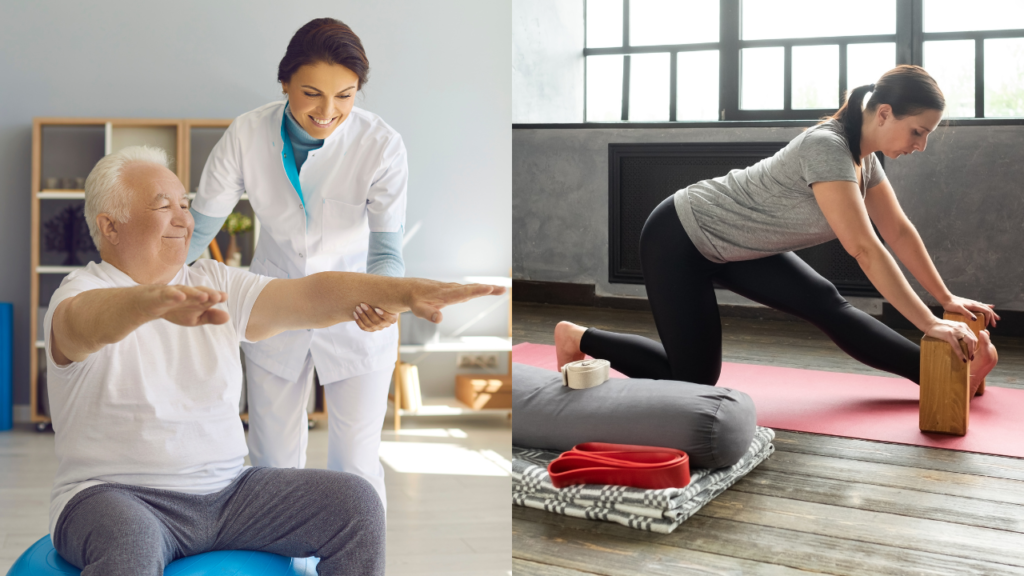 Physiotherapy and Yoga Therapy are both commonly used therapies to help improve a patient's health and mobility. However, they have many differences in the approach and techniques used.
Physiotherapy uses methods such as exercise, physical training, heat therapy, massage, and especially electrotherapy to help improve function and relieve pain.
Meanwhile, Yoga therapy is a type of gentle exercise combined with practice that focuses on the psychological and emotional state of the practitioner. It focuses on the union of body and mind, and helps reduce stress, Enhance flexibility and relieve back pain.
So, although these two methods have the common goal of improving health and mobility, they have significant differences in the approaches and techniques used.
7 Common Types of Physiotherapy
Rehabilitative Physical Therapy (rehabilitation): Rehabilitation physiotherapy is a type of physical therapy that focuses on restoring health to patients after surgery.
Neurological Physical Therapy (neurotherapy): This type of physical therapy focuses on helping patients recover from neurological conditions.
Geriatric Physical Therapy (geriatric therapy): This type of physical therapy treats age-related conditions such as osteoporosis, arthritis, and chronic disorders.
Hand Physical Therapy (hand therapy): This is physical therapy for people who have injured their hands or have rheumatoid arthritis.
Pediatric Thysical Therapy (therapy for children): This type of physical therapy helps to correct birth defects, slow physical growth, treat acute injuries and genetic defects such as cerebral palsy in children.
Orthopedic Physical Therapy (osteoarthritis): This type of physical therapy corrects deformities related to the musculoskeletal system such as trauma to bones, muscles, tendons, joints and ligaments.
Cardiovascular and Pulmonary Physical Therapy (cardiovascular and pulmonary therapy): Cardiopulmonary physiotherapy is aimed at treating patients with chronic lung disease and heart failure.
Notes when participating in physical therapy
First, you should find a professional with enough expertise and experience to ensure that the therapy is performed properly and safely.
Before starting therapy, a specialist needs to examine and evaluate your medical condition to recommend appropriate treatment.
You need to fully and diligently participate in the treatment process to get the best results.
You need to master the specified techniques and workouts to do it yourself at home.
Finally, you need to contact a specialist immediately if you have any problems or symptoms related to your treatment.
Nguyen hopes that the above sharing will be effective and useful for you. Besides, there are also many articles on health and yoga therapy at Nguyen's blog, especially Youtube channel Nguyen has many other useful exercises and movements, please follow and look forward to Nguyen!